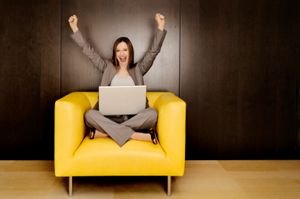 In 1931 during the Great Depression, Bill Renfrow left a struggling economy in Dallas, Texas and moved to Corpus Christi. The Port of Corpus Christi had just opened and offered opportunities that were scarce at that time. In 1964, Bill's son, Bill Renfrow Jr. was working in Dallas having graduated from the University of Texas. He began working with his dad at Renfrow & Company at that time.
In order to establish a unique market for itself, the Renfrow's decided in 1966 to carve out a new niche – manufacturing business forms (invoices, checks, receipt books, statements, etc.). This required investing in new specialized equipment – forms presses and collators. This enabled the company to print off of rolls of paper, which was a less costly, and a faster method of printing. Renfrow then began producing forms for computers and multi-part snapout sets. This was again a first for South Texas.
As computer technology changed from dot-matrix printers to laser printers we adapted to fit the laser forms need required and to address digital printing, copying, and forms on demand. About this time, Bill realized that Renfrow & Company could certainly compete for a larger market share and had plenty of room to grow. A buyout agreement was reached whereby Barney Eldridge began the process of becoming the new owner and at the same time Renfrow & Company expanded and opened a Houston Sales Office. Bill had known Barney Eldridge since 1990. Barney had grown up in Corpus Christi and graduated from Texas A&M University in 1981. Barney had been a salesman in the business forms industry since 1982, mostly in Houston, Texas. In 1999, Bill and Barney had a perfect match in achieving each other's objectives. In 2005, Barney completed the purchase of the company while Bill remains with the company as a consultant.
Renfrow & Company has continued to grow rapidly. Today we are the oldest and largest manufacturer of business forms in South Texas. With the new generation of ownership we are well positioned to offer the full range of printed products, laser forms, business forms, labels, full color and digital printing to companies throughout the United States.
Our newest innovation is renfrowprintstore.com. This site combines the ease of ordering online with a vast selection of templates for all of your digital printing needs. Renfrowprintstore.com offers online ordering of brochures, business cards, docupads, envelopes, flyers, holiday photo cards, invitations, letterheads, note cards, note pads, post cards and thank you cards. Our online print store allows you to personalize your thank you cards, add digital photos to invitations, or order color laser copies of brochures. If you live in the Corpus Christi or south Texas area, you also have the option of picking up your online printing, digital brochures, 4 color business cards, or any other items ordered from the online print store at the Renfrow & Company storefront at 1123 Agnes, Corpus Christi, Texas. Of course, all standard shipping methods are also available for customers that may live in other parts of Texas or the United States.